PROUDLY IN OUR 17th YEAR!
BEST VIEWED AT 1680x1024 RESOLUTION (Minimum Recommended 1280x1024)
Charlie and Joe's at Love Street Officially Opens In Jupiter
See the full scoop on the newly opened, hottest spot in Palm Beach County -
CLICK HERE
.
Farmers Table - North Palm Beach
Even if there are no fans in the stands of NFL games this season, you can still join 'em at Farmer's Table in North Palm Beach.
The restaurant's got your ticket every Sunday for all the best games broadcast on the big screen. Drink specials? Check! Enjoy the open air and sip on cocktails, beers and buckets including $5 drinks from the West Palm Beach-founded Monkey in Paradise. And of course, what's a game without wings? Enjoy finger lickin' buffalo goodness - 10 for $12 or 20 for $22. See you there!
Gridiron Grill-Off Food, Wine and Football
Drive Shack Grand Opening - 10/18
Harvest Grill & Wine Bar - Delray Beach
Farmers Table - Boca
Kesha Performs In Miami for Hilton Honors
SAIKO-I SUSHI LOUNGE & HIBACHI RESTAURANT, BY CELEBRATED YAKITORI RESTAURATEURS, COMBINES ENTERTAINMENT-GRADE HIBACHI & AWARD-WINNING SUSHI UNDER ONE ROOF
BOCA RATON, FLA. – Saiko-i Sushi Lounge & Hibachi restaurant, brought to Central Boca by Jason Zheng and Tina Wang, the husband-and-wife restaurateur duo behind celebrated Yakitori Sake House in East Boca, is South Florida's hottest new authentic Japanese dining experience with a Pan-Asian influence to feature sushi and hibachi under one roof. Located in the Shops at Village Pointe shopping center, Saiko-i's corner unit comes with a storied past as Boca Raton nightlife hotspot Gatsby's, with a lively interior setting that promises the same for diners at the reimagined space.
Full Press Release And Photo Gallery
Bolay - West Palm's Newest (and Best) Eatery
Jake Miller - Back To The Start Tour - Ft. Lauderdale, FL
(Reporter and Photographer - Kiersten Pacelli) - Jake Miller closes out his Back To The Start Tour with his original fans at his home base in South Florida. The final show took place at Revolution Live in Fort Lauderdale, FL. Hometown friends and family filled the venue, bringing all the hype and energy needed to make the evening unforgettable.
Jake's fourth national headline tour, and his first tour without a record label behind him was an overwhelming success. His comments on Instagram following the show laid it out simply- "you guys [the fans] are my label now". This loyal following, seen all over social media, has been coined the "Millertary".
The vibe for the night was upbeat with a homey, locals-only feel. All three openers, including @thestolen who opened for Jake throughout the tour, brought their A-game. The night, and the tour as a whole, ended with a bang- just as Jake expected it to. Post-show he announced, "we may already be planning another tour". Keep a lookout for Jake's new music and next tours sneak peeks. (
FULL STORY AND PICS
)
9th Annual Downtown Orlando Food & Wine Festival Recap
Lord Balfour, South Beach Review
Review of Lord Balfour Hotel South Beach
This is a newly refurbed boutique hotel on the south end of SoBe. It is within walking distance to Nikki Beach, Story Nightclub, Joe's Stone Crab and dozens of restaurants, bars and shopping and night life along Ocean Drive, perfect location! The famed South Beach 'beach' is across the street. Excellent place to stay!
http://www.lordbalfourmiami.com
located at 350 Ocean Dr., Miami Beach, FL 33139. Phone: (305) 673-0401
Click Here For Complete Review and Pictorial
Sabor y Vino at Downtown at the Gardens
Casa D'Angelo - Boca Raton
The Racing Series!
UMF 2019
Brooks and Dunn at the Cook-off
Taverna Opa - Delray
Diplo to Produce His Own Exclusive SiriusXM Channel
"Diplo's Revolution" to launch Thursday, March 22 in Miami Beach with an exclusive live DJ set for SiriusXM subscribers from Diplo and friends
NEW YORK– SiriusXM announced today that GRAMMY award winning producer and DJ Diplo will launch his own radio channel, Diplo's Revolution, exclusively on SiriusXM.
The channel, which will launch on Thursday, March 22, will feature global rhythmic music hand-selected by Diplo, as well as regular original shows hosted by Diplo, Dillon Francis and Major Lazer members Jillionaire and Walshy Fire. Diplo's Revolution will also showcase the biggest songs in global, hip hop, experimental and underground dance culture.
The channel will air live festival coverage from the most important electronic music festivals around the world including Ultra Music Festival, Electric Daisy Carnival Las Vegas and more. In addition to championing the diverse and eclectic musical tastes that have put Diplo at the forefront of music and pop culture, Diplo's Revolution will also include songs from his solo projects, Major Lazer, Jack Ü and further upcoming collaborations.
Diplo's exclusive SiriusXM channel will launch with a special live performance from the Faena Theater in Miami Beach on Thursday, March 22 at 9:00 pm ET. This exclusive performance, for SiriusXM subscribers, will feature DJ sets from Diplo and friends, and will air live on Diplo's Revolution, on SiriusXM channel 52 and through the SiriusXM app.
"I'm so stoked to be starting my own channel with SiriusXM. Back in 2012 I had a show with them called 'Blow Your Head,' and it's awesome to be back in the family launching this project together. I'm excited to share my favorite music from all over the world, and can't wait to have tons of friends on to do the same," said Diplo.
"It's exciting to have GRAMMY winner Diplo as part of the SiriusXM family. I have no doubt that Diplo's Revolution will quickly become a listener favorite among our already popular dance channels, especially given his work as not only a solo artist but as part of Jack Ü and Major Lazer," said Scott Greenstein, President and Chief Content Officer of SiriusXM. "A well-respected producer, tastemaker, DJ, writer and performer, Diplo will share his singular point of view with SiriusXM listeners, exposing them to the most important dance music from around the globe."
Diplo will host a weekly music show,
Records on Records
, on Diplo's Revolution that will air on Fridays at 7:00 pm ET. The show will feature Diplo's selections from dance music and beyond worldwide. Additionally, Diplo will also host a monthly show,
Diplo's Wavelength
, based on the cultures and music he discovers while touring the world.
Diplo's Wavelength
will air the first Friday of every month.
A global superstar, Diplo has worked with some of today's most important artists including Beyoncé, Justin Bieber and The Weeknd, and has toured the world solo as Diplo, as one half of Jack Ü with Skrillex and as one third of Major Lazer. Diplo's new exclusive SiriusXM channel will highlight the renowned producer's worldwide influence.
Diplo's Revolution is the latest SiriusXM channel created with iconic and leading artists, including Eminem's Shade 45, Bruce Springsteen's E Street Radio, The Beatles Channel, Jimmy Buffett's Radio Margaritaville, Garth Brooks' The Garth Channel, Willie Nelson's Willie's Roadhouse, Kenny Chesney's No Shoes Radio, Tom Petty Radio, Pearl Jam Radio, B.B. King's Bluesville, Elvis Radio, Siriusly Sinatra, and Ozzy Osbourne's Ozzy's Boneyard.
SiriusXM subscribers will be able to listen to Diplo's Revolution, channel 52, on SiriusXM radios, and those with streaming access can listen online, on-the-go with the SiriusXM mobile app and at home on a wide variety of connected devices including smart TVs, Amazon Alexa devices, Apple TV, PlayStation, Roku, Sonos speakers and more. Go to
www.SiriusXM.com/streaming
to learn more.
Previous UMF Photos - Awesome
Friends Of Jupiter Beach Food and Wine Festival
Life in Color, "The World's Largest Paint Party"
is back and ready to take over Miami with its third edition of the paint-dropping music festival. The 1-day event will showcase the hottest acts in music, including Skrillex & Diplo's Jack U, and inaugural festival performance by Ruby Rose, star of Orange is the New Black, and the highly anticipated EDM debut of Big Sean. From the first drip of paint to the last beat drop, attendees can expect a truly unique experience for this year's event. The theme of the 2016 show, is Kingdom – a journey of spiritual awakening, where pure joy and happiness reign. Full Lineup to Include: Jack U, Steve Aoki, Zeds Dead, Flosstradamus, Special Guest: Big Sean, 3lau, Keys N Krates, Ruby Rose, David Solano, Morten, Moska, Nghtmre, Troyboi, Big Makk, Crespo, NWB, Ricky Remedy - Go to the
Life In Color - Miami 2016
website for all details...
Avalon - Steak & Seafood Coming to Delray
AVALON, A BEACHY, SEASIDE STEAK & SEAFOOD CONCEPT TO OPEN ON DELRAY BEACH'S ATLANTIC AVENUE "RESTAURANT ROW" WINTER 2021
Avalon is a fresh, new, shining spot in the heart of Delray's Atlantic Avenue, right next door to Roccos Tacos. We enjoyed a pre-grand opneing meal hosted by Creator and Founder, Curt Huegel and Antonello Paganuzzi - Director of Operations. The entire staff was attentive, professional and made us feel right at home. The photos we shot in this
article
are what you can expect to see. The appetizers included the Lump Crab Cocktail and Angry Lobster. The crab was sweet and served with a mustard sauce, wonderfully done. The Angry Lobster was an decadent find on the menu. The lobster (halved) was fresh and the sauce was a perfect blend of spice and character. We opted to endulge in the Wet Aged Petit Filetand NY Strip. This were cooked to a perfect medium as requested, with a light drawn butter for a bit of added flavor. They do offer a house made steak sauce and a chimichurri sauce as additional accompaniments. We tried the NY Cheesecake, that melted in our mouths, not too heavy, and certainly not light.
This is a comfortable, well run establishment with a great steak and seafood menu that we expect will be around for decades to come. Be sure to tell them that South Florida Free Press recommended them to you.
Conceptualized by New York's veteran hospitality operators Host Restaurants, the 30-year visionaries behind award-winning dining institutions including Scarpetta, Campagnola, American Cut, Bill's Townhouse, and many others, Avalon will showcase the best in land and sea from all coasts with modern dishes taking star at the dinner plate inside an atmosphere designed to radiate approachable, unstuffy elegance.
Affectionately named Avalon, after the legendary island in the Arthurian legend, a place of haven and purity fabled for its restorative healing powers, Avalon will be about bringing guests who love life on the water and life by the sea to enjoy a unique new comfort-minded steakhouse experience designed to evoke an air of modern tranquility and escapism through the art of delivering upon a great quality night out.
"At Avalon, we want you to linger longer, enjoy your time here and not feel pressured to rush your meal. Dinner was made to savor; life is too short to not enjoy a great quality steak," explains Host Restaurants President and Founder Curt Huegel.
When it opens this month, Avalon will bring a robust, sustainably-sourced premium selection of prime, organic, grass fed, hormone, steroid, and antibiotic free offerings, including steaks, beef, poultry, and seafood to South Florida's dining scene, anchored by an esteemed 250 bottle wine list for wine lovers of all regions, showcasing sought after labels from unique wineries around the world. Guests who prefer spirit-centric pairings to their meal will also delight in Avalon's creatively conceived cocktails presenting inventive twists on classic libations.
Finding the perfect brick and mortar location in South Florida for Avalon was years in the making, explains Huegel. "We were waiting for the perfect spot to present itself in South Florida for the past five to seven years and were grateful to have had Menin Development offer Avalon's address on the Avenue. So many of our top patrons have second homes and extended family members whom they visit in Palm Beach, Boca, Delray Beach and around South Florida, and whenever they would return to New York, they would express their wishes and wants, sharing what was missing for them with existing concepts in town. We finally found the right space and the timing to make the move was right. We want our loyal guests to know that we couldn't be more excited to reveal Avalon, a steakhouse expressly designed with these guests in mind," says Huegel.
Avalon's beachy yet stylish interiors were also designed with intention. Bright, naturally lit and intimate, pristine and nautically-inspired, the atmosphere and palette is soft, soothing and designed to evoke the feeling of relishing in a tranquil and relaxing, stylish day at sea. Elegant neutrals and oceanic blues are topped off by the addition of picturesque coastal greens. The expansive indoor/outdoor bar was designed for laid-back and non-formal easy eating, keeping parties of one and two in mind. There will be two traditional dining levels - al fresco street dining for guests who prefer sight-seeing passerbys and second floor dining for a more intimate, social dining experience. All dining areas at Avalon will be implementing the strictest of COVID-19 protocols and are mindful of personal space and superior comfort.
"We believe that a memorable dining experience is one that should provide a relaxing, supportive, inclusive guest experience that is customer-centric without judgement or attitude. Our entire premise for any restaurant that we build, is to build for and around the guest experience. Avalon was expressly designed to deliver for the South Florida customer," says Huegel.
Cooking techniques at Avalon will take modern day guest requests into mind, "Ten years ago, the edgy steakhouse was defined by lobster mac and cheese; today the guest need has evolved. We're seeing health-minded requests and protein-centric asks. Guests are looking for clean comfort food, well prepared plates where the quality of the ingredients stand on their own merit. Avalon will present an abundance of seasonally-sourced organic meats, produce and fish that won't cut corners when it comes to quality, prepared to our guests' desired temperature, keeping everyday affordability in mind."
Avalon was designed to be the place to gather and meet your best friends, your family members, your fellow entrepreneurs. "It's about creating an atmosphere of familiarity and comfort. We'll be the kind of establishment that gets excited when our guests step into the room. We want our team to remember your name and remember what you love to eat. We're committed to accessible price points that won't compromise quality and will honor that premise by always staying innovative and fresh with weekly rotating specials and of course, everyone's fan favorite - a unique, weekly lifestyle happy hour destination where you can get excited about the fellow guests and dynamic personalities you'll connect with at our bars. We're excited to present a haven we felt the community deserved after hearing about the needs for some time."
Signature dishes at Avalon will encompass modern steakhouse classics cooked to preferred temperatures such as Filet Mignon, 28-Day Dry-Aged Prime Ribeye, 36 oz. Tomahawk for 2 , to sustainably-sourced seafood specialties including Whole Roasted Fish of the Day, 32 oz Aged Bone In "Tuna Ribeye", Scallop Carpaccio with Huckleberry Agro Dolce, Spiced Cashew, Citrus Segments Basil Oil, Marigold, Angry Lobster with Fermented House Sriracha, Ginger, Pullman Toast, to light entrees for those health minded or vegetarian such as Roasted Cauliflower with Tahini, Herb Vinaigrette, Goat Cheese, Basil as well as inventive comfort dishes including Kimchi Fried Rice.
Avalon Delray is a new coastal-inspired twist on the traditional steakhouse by acclaimed New York restaurateurs Host Restaurants. Avalon will open this winter for dinner and happy hour with brunch to come at a future date. For more information, visit
www.avalondelray.com
.
THE SOUTH FLORIDA GARLIC FEST IS BRINGING THE PARTY TO WELLINGTON
March 6-7, 2021
Wellington Green Park, 2175 Wellington Green Drive, Wellington, Florida
WELLINGTON, FLORIDA, JANUARY 12, 2021 - The "Best 'Stinkin' Party in South Florida" is not letting COVID-19 ruin its annual community celebration of garlicky food, art and entertainment. Garlic Fest organizers are moving forward with a move to the beautiful city of Wellington, FL.
People are eager for live entertainment and something that feels normal," says Festival Executive Director, Nancy Stewart- Franczak. "It's a lot of work to reschedule and plan a socially distanced event, but we've always been ready and willing to make necessary changes to keep our attendees safe throughout the years.
The international award-winning two-day festival will take place March 6th through 7th at Wellington Green Park for its 22nd annual celebration. The festival will showcase its world-renowned Gourmet Alley, full beer and liquor bars, children's amusement rides, live music and over 180 exhibitors selling art, products, and homemade goods.
Extensive plans have been put in place to adhere with CDC and social distancing guidelines, including, but not limited to; mandatory mask enforcement while inside festival premises, limiting the number of attendees inside the festival at one time, 10x10 "pods" drawn on the lawn at our main stage with 6 ft aisles allowing everyone to easily maintain 6 ft social distancing. (4 to 6 guests permitted per pod), increased sanitation procedures at all touch points, temperature checks, and multiple hand washing stations.
Of course, what would Garlic Fest be without mouth-watering garlicky goodies! Attendees can get their garlic-fill at Gourmet Alley featuring over 100 garlic infused menu items. Give your taste buds a shock from garlic ice-cream to our signature dish flaming garlic shrimp scampi! In addition to great food, Garlic Fest has brought national and international performers to grace the stages of "The Best STINKIN' Party in South Florida" for the past twenty-one years. This year, Garlic Fest will showcase local bands and musicians who have been scrounging for gigs since the pandemic began in addition to the national tribute acts booked. On Saturday, attendees can listen to the reggae, ska and punk rock sounds of
Badfish – a Tribute to Sublime
and sing-along with rock and alternative classics by
Red NOT Chili Peppers
(a Red-Hot Chili Peppers tribute band). In addition to these great acts, local artists from all over Florida will perform both days of the festival. The full entertainment lineup can be viewed at
GarlicFestFL.com
.
Founded by a group of local folks looking to establish a fund-raising source for local non-profit organizations, the 22-year-old event continues to employ volunteer organizations to staff the event, raising over $670,000.00 to date.
Garlic Heads get ready to regale, rejoice, refresh and renew (6ft apart) at the 22nd Annual South Florida Garlic Fest! For more information, visit our website at
GarlicFestFL.com
and don't miss the "Best Stinking Party in South Florida".
Facebook:
@GarlicFestFL
Instagram:
@garlicfestfl
Tickets:
https://GarlicFestFL.com
[Garlic Fest is a fundraiser for 9 local non-profit organizations and 200 volunteers who are dedicated to arts and education for youth for total of $670,000 in charitable contributions to date.]
Candlebox Covers Buffalo Springfield's "For What It's Worth"
Casa D'Angelo/Angel Elia brand is donating 100% of the sales from its gift cards to its employees.
To support its employees during the coronavirus pandemic,
the Casa D'Angelo/Angel Elia brand
is donating 100% of the sales from its gift cards to its employees.
A beloved Italian mainstay in the South Florida area for over two decades, gift card sales will benefit staff at 8 brand locations ranging from Aventura to Delray Beach (see below for details).
As a special incentive, all those choosing to purchase a gift card will be able to do so at a 20% discount. Gift cards can be purchased in any denomination in-store as well as online at
www.angeloelia.com
. Locations where gift cards can be purchased are as follows:
Casa D'Angelo Locations:
Fort Lauderdale: 1201 N Federal Hwy #5a, Fort Lauderdale, FL 33304, (954) 564-1234
Aventura: 2906 NE 207th St, Aventura, FL 33180, (305) 699-5500
Boca Raton: 171 E Palmetto Park Rd, Boca Raton, FL 33432, (561) 996-1234
Angelo Elia Pizza, Bar & Tapas Locations:
Fort Lauderdale: 4215 N Federal Hwy, Fort Lauderdale, FL 33308, (954) 561-7300
Delray Beach: 16950 Jog Rd, Delray Beach, FL 33446, (561) 381-0037
Coral Springs: 5920 Coral Ridge Dr, Coral Springs, FL 33076, (954) 344-1233
Weston: 1370 Weston Rd, Weston, FL 33326, (954) 306-0037
Angelo Elia the Bakery Bar Location:
2104 E. Oakland Park Blvd, Fort Lauderdale, FL 33306, (954) 566-6100

In addition, each Casa D'Angelo will continue to offer White Glove curbside pick-up as well as 'personal delivery' for small or large orders. Orders can be placed from 2pm-9pm daily by calling the main number of the location of choice. Angelo Elia Pizza, Bar & Tapas remains open for in-house dining available at all locations (regular operating hours, limited to 50% capacity). Curbside pick-up and free 'personal delivery' are also available at each location (except for Delray Beach). Meanwhile, Angelo Elia the Bakery Bar is open for in-house dining (limited to 50% capacity) today and tomorrow from 7am until 10pm. In addition, the Bakery offers curbside pick-up and free 'personal delivery' to homes and residences. We encourage your readers to continue to enjoy their Italian favorites either in-house or in their own homes and support staff with each gift card purchase.
Candlebox Rocks The Culture Room - 2020
NEW FULL-SERVICE RESTAURANT, SAMMY J'S KITCHEN + COCKTAILS, TO OPENED ITS DOORS THIS OCTOBER
Good Food, Good Mood: Globally-Inspired Cuisine in Boca Raton's New Neighborhood Hangout
BOCA RATON, FL – Sammy J's Kitchen + Cocktails, a new full-service restaurant set inside a modern American kitchen, will open its doors in Boca Raton, Florida this October. Sammy J's will offer internationally-inspired cuisine where guests can enjoy an appetizer while sipping on a cocktail or take a seat for a fabulous, yet comfortable dining experience.
Founders and business partners of two years, Samir Changela and Jason Levine, bring over 15 years of experience in the restaurant industry to their namesake restaurant. "We finally had the opportunity to collectively create a concept that we believe will be new, exciting and a staple in this community for years to come," says Changela. "After countless brainstorming sessions over drinks, a lightbulb went off and Sammy J's was born."
Boasting a fresh, modern, comfortable feel with a vintage sports theme throughout, Sammy J's Kitchen + Cocktails is a concept that truly has something for everyone. Whether you want to take in a happening happy hour, catch a game and indulge in a great meal, or take the whole family out for dinner, Sammy J's is the go-to spot. The restaurant features both indoor and outdoor bars, a lounge-like living room area, as well as a private dining space equipped with a 120-inch projector screen, designed to accommodate private parties, business lunches, celebrations, meetings, and more.
The upscale but casual restaurant, features worldly menu options that come together using the freshest ingredients around, in an entirely scratch kitchen. Culinary Director & Executive Chef, Randy Luedders, will head the Sammy J's kitchen, producing recipes learned from his over 36 years in the field.

"I envision Sammy J's to become known for having such amazing food offerings that the guest has no choice but to tell their family, friends and coworkers how much they are missing by not frequenting our restaurant," said Luedders. "I want it to become 'your neighborhood restaurant and bar' where sometimes you go for a bite and a cocktail and other times you go for an incredible dinner or brunch."

Additionally, the eatery will offer an extensive menu of beer and wine featuring 44 beers on draft along with a diverse craft beer list; an eclectic wine list featuring 46 wines and 17 by the glass; an exceptional whiskey, scotch, and bourbon selection, as well as a seasonal cocktail menu. Distinctive finishing touches include a chalkboard wall listing the beer, cocktail, and wine lists, as well as a digital jukebox which will play all of the latest hits. Sammy J's also has 35 TVs throughout the restaurant, so when it comes to every game for every major sporting event – there's a spot for everyone.
CLICK HERE FOR MORE PICS OF THE FABULOUS FOOD AND DRINKS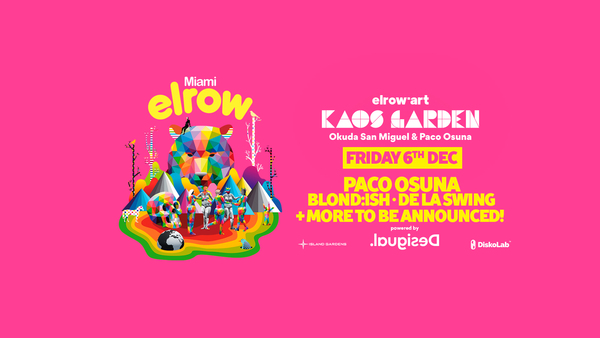 MUSICIALLY CURATED BY WORLD RENOWED DJ AND PRODUCER PACO OSUNA, ELROW'ART ANNOUNCES BLOND:ISH AND DE LA SWING FOR 'KAOS GARDEN' AT ART BASEL IN MIAMI
ONE NIGHT ONLY IN MIAMI, KAOS GARDEN PREMIERES IN CUSTOM BUILT STRUCTURE AT ISLAND GARDENS, OVERLOOKING THE BEAUTIFUL MIAMI SKYLINE FRIDAY DECEMBER 6
THIS IS KAOS GARDEN, THE FIRST IMMERSIVE EXPERIENCE OF ELROW'ART U.S. DEBUT
Multidisciplinary artist Okuda San Miguel and Paco Osuna will represent, through avant-garde art and electronic music, their particular vision of 'The Garden of Earthly Delights' titled Kaos Garden in an experience where the audience will be part of a great piece of interactive art. Limited tickets on sale now:
elrowmiami.com
- Presented by Diskolab
What is elrow'art? Watch HERE
World renowed DJ and Producer Paco Osuna curates elrow'art's US debut in Miami December 6th, marking this a special highlight to this years' Art Basel edition. Today they announce the unique, ethereal and conscious expanding house DJ and artist Blond:ish plus intertnational party starter and club scene champion, Eats Everything as part of the musical line up for their "Kaos Garden" themed event. More talent will be announced soon.
The personal universe of an artist turned into a party is the unprecedented collaboration that is elrow'art. Fashion brand Desigual, global party purveyors elrow, and art collective Ink and Movement come together to develop experiences in which avant-garde art and electronic music become a unique show, and the audience are key players. The collective behind this collaboration are a group of creatives who propose new scenarios to play, feel and participate in music and art.
Inside
Kaos Garden
attendees will experience the reinterpretation of
Bosch's
painting
'The Garden of Earthly Delights,'
by Paco Osuna and the multidisciplinary artist
Okuda San Miguel.
It is a collaboration between the two conceived as a trip through a night that will represent the dynamics of the historic triptych in which we see scenes of paradise and hell. In Kaos Garden, a unique hell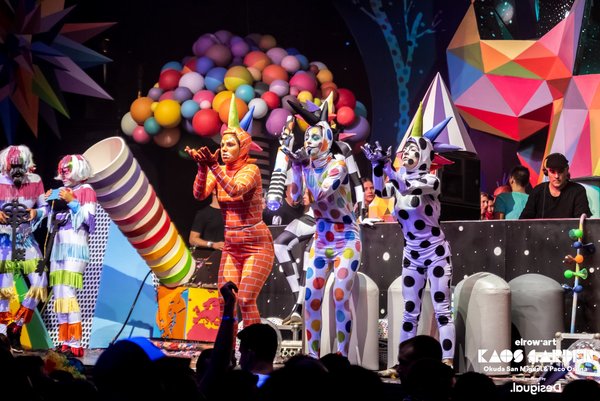 will be the starting point. Darkness will represent the night until reaching ecstasy. The paradise will be associated with fun and hedonism with the light of the first hours of the morning in such a mystical and idyllic setting inside a beautifully built structure located at Miami's exquisite
Island Gardens.
"We're so excited and proud of elrow'Art and can't wait to bring it to Art Basel, a perfect destination for art lovers and music fans to experience this unique multisensory collaboration," says
Michael Julian,
Special Advisor to elrow.
Paco Osuna will be the sonic curator and spiritual guide who will select the rhythms that will draw the sound landscape to mark the route from hell to Eden. Okuda's unique iconographic language of multicolored geometric structures and patterns that have made him one of the world's most recognizable street artists of today will be on full display, right down to elrow's signature confetti. He will recreate the surreal, chaotic and multisensory scene of a garden that will unleash emotions and human free will. Skulls of colors that open up at our pace, ships that fly, mountains that take root, birds, unicorns and sirens dancing, are some of the elements that will make up this fantasy in which each attendee will choose their own destiny.
elrow'art is a traveling initiative that will be calling in major cultural and entertainment capitals. Debuting at Amnesia during Ibiza's closing week, elrow'art now makes its way to Miami and New York this December before continuing its travels around the world in 2020. "After our sold out debut in Ibiza, we are very proud to debut in Miami with our first immersive art experience, elrow'art. An initiative brought to life thanks to the collaboration with a great team coming from different art disciplines such as Ink and Movement, Okuda San Miguel, Desigual and Paco Osuna," says elrow's CEO Juan Arnau.
"Introducing elrow'art in Miami during Art Basel is a very special event for me. It means bringing the art enthusiasts to a party where they can experience my universe from an unusual perspective. Moreover, the union of art and music really interests me due to the importance that the latter has in my life". – Okuda San Miguel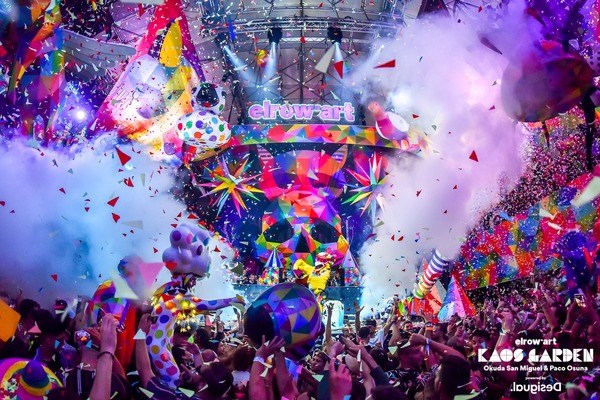 The first edition of this project is sponsored by Desigual. With it the fashion brand fulfills its purpose of supporting the art world and young talents, as well as inspiring to awaken the creativity that we all carry within and become artists.
"I think life is boring if you don't do things your own way, even if it is not the way or in the order in which everyone expects," explains Okuda San Miguel about the leitmotiv of Kaos Garden. "For me, chaos is the freedom to choose your own path and have a good time going through it. Let's do it our way",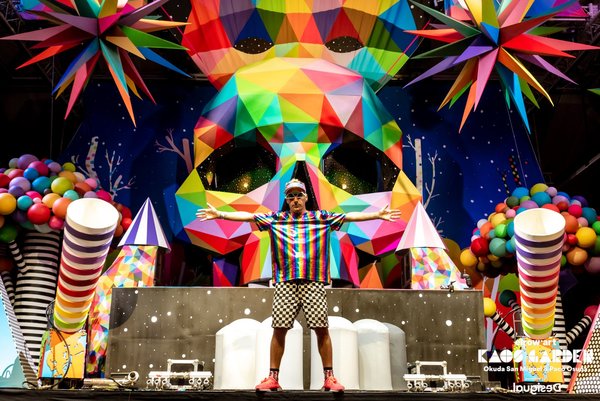 dishes the Spaniard, who proposes all to be funny and irreverent in a magical event like the work of art he represents. "This experience is a challenge for me, an opportunity to innovate and do something different, because making music that identifies Okuda, elrow and what I represent, is a challenge because they are three very different concepts but at the same time very connected".
Watch elrow'art in progress and scenes from their debut at Amnesia
:
Here
ASIAN-INSPIRED DESSERT BAR, KASAI & KOORI, TO LAUNCH IN SOUTH FLORIDA THIS FALL
Eatery will Debut Cultural Frozen Dessert Traditions for the First Time in America
FORT LAUDERDALE, FL (NOVEMBER 2019) –
The people of Southeast Asia have been harboring a sweet secret for years: delicious traditional desserts inspired by the ice caves of the famed active volcano, Mount Fuji. And this fall, for the very first time, Americans will be able to experience these delectable delicacies including Japanese Kakigōri, Taiwanese shaved ribbon ice, and Korean Bingsu, reimagined with the grand opening of Kasai & Koori.
Derived from the Japanese terms for 'fire and ice,' Kasai & Koori will make its official debut in South Florida this fall with four locations spread throughout Palm Beach and Broward Counties. The idea for the unique business venture came to life thanks to longtime friends and business partners, Lee Goldberg and Taylor Levy. Goldberg, an attorney and original co-founder of popular eatery chain BurgerFi, and Levy, running his family's Golden Corral franchise stake with four locations, stumbled upon the discovery of Kakigori, a Japanese frozen dessert delicacy, on a recent trip to Asia where they initially intended to scout Asian street food prospects for a food hall they were looking to develop back home. (
CLICK - complete story & pics
)
South Florida's Favorite Food, Wine, Sports and Entertainment Event
is making its return Saturday, November 9 at the Pompano Beach Amphitheater. Tickets are now on sale online for the 10th Annual
Walgreens Gridiron Grill-Off Food, Wine and Music Festival
. This year's event will be bigger and better than ever, bringing fans top culinary talent, a diverse beverage selection from Southern Glazers Wine & Spirits, nationally acclaimed live entertainment and the chance to mix and mingle with NFL legends in a laid-back, memorable setting.
Founded in 2010 by Miami Dolphins All-Pro Linebacker John Offerdahl and his wife Lynn, this anticipated annual culinary competition pairs NFL legends with 22 noteworthy, award-winning chefs from upscale restaurants like Beach House Pompano, Oceans 234 and Burlock Coast, as well as talent from some of South Florida's hottest new spots including Bar Rita, Steelpan and Wild Thyme Oceanside Eatery.
During the 10th annual event this November, guests will be treated to a laid-back afternoon with delicious offerings from the region's top culinary talent, along with a variety of specialty cocktails from Tito's Vodka, Casamigos Tequila, Larceny Bourbon, a selection of fine wines compliments of Constellation Brands and craft beers from Boston Beer. Opportunities will abound to get up close and personal with 22 NFL legends including O.J. McDuffie, Zach Thomas, Mercury Morris, Jim Kiick, Channing Crowder, and the Marks Brothers (Mark Duper & Mark Clayton). Event attendees can also get in on the action themselves at the Toyota Cornhole Stadium, competing or cheering on their favorites as they attempt to beat John Offerdahl's score in the Celebrity Cornhole Challenge. Additionally, the celebration will include a live music performance in partnership with Live Nation.
"Over the past ten years, we have experienced tremendous growth and success, continuing to surpass our expectations," said festival founder John Offerdahl. "This year, we have really turned up the heat, adding several talented new chefs to further expand our high-end culinary offerings."
All net proceeds from the Walgreens Gridiron Grill-Off Food, Wine & Music Festival will benefit the Offerdahl's Hand-Off Foundation's mission to "Feed the Needs of Those in Crisis" through direct donation to the Offerdahl's Hand-Off Foundation Scholarship Fund at Broward College and to Taste of the NFL's Kick Hunger Challenge, a national initiative which matches donations by the Gridiron Grill-Off to support Feeding South Florida, a hunger relief organization that serves 25% of Florida's food insecure population. Over the past ten years, John and Lynn have raised more than $500,000 for the Offerdahl's Hand-Off Foundation through the support of more than 30,000 attendees.
Tickets are now on sale and are all-inclusive, priced at $85 per person for General Admission and $125 per person for VIP. Group ticket packages are available as well. For more information or to purchase tickets, please visit
www.gridirongrilloff.com
. Follow the Walgreens Gridiron Grill-Off Food, Wine and Music Festival on Facebook at
facebook.com/gridirongrilloff/
and on Instagram at @
gridirongrilloff
DRIVE SHACK TO CELEBRATE GRAND OPENING OCT. 18
Bringing a New Level of Entertainment to West Palm Beach - Social Destination Offers Three Levels of Interactive Golf Gaming, Chef-Driven Menu, Craft Drinks & More. Opening Day to Feature Ribbon Cutting Ceremony and Kickoff of Club Donation Drive to Benefit The First Tee of The Palm Beaches
WEST PALM BEACH, FLA. (Oct. 11, 2019) —
Drive Shack
will open the doors to its three-story, 96-bay West Palm Beach venue, on Oct. 18. Based on the premise that good times are meant to be had, not just talked about, Drive Shack ignites the fun with a mix of friendly competition, food and drinks, and interactive golf gaming. Drive Shack will commemorate opening day with a ribbon-cutting ceremony that will start at 8:30 a.m. and also kick off Drive4Change, a club donation drive to benefit The First Tee of The Palm Beaches.
Committed to supporting the communities in which it serves, Drive Shack - with the support of 2nd Swing and the PGA TOUR Superstore - will be collecting used clubs to help benefit The First Tee and support its mission to positively impact the lives of young people through the game of golf. People can swing by Drive Shack any time from opening day through Nov. 3, to donate golf clubs – anything from a single iron to a putter to a full set of clubs. In return, those donating clubs can receive up to $100 of free BayPlay.
Donated clubs will be valued and converted to cash donations with the help of 2nd Swing and all Drive4Change proceeds will be given directly to The First Tee of The Palm Beaches. In addition, Drive Shack with the support of the PGA TOUR Superstore – Delray Beach, will be presenting The First Tee of The Palm Beaches with brand new sets of junior golf clubs to give to the young members they serve.
What:
Drive Shack Grand Opening – Ribbon Cutting Ceremony
When:
Friday, Oct. 18 - Ribbon-cutting: 8:30 a.m. - Doors open: 9 a.m.
Who:
Drive Shack General Manager Jon Stone, Palm Beach County Mayor Mack Bernard, The First Tee of The Palm Beaches Development Director Jack Barrett
Where:
1710 Belvedere Road, West Palm Beach, Fla., 33406
The go-to entertainment outlet for social seekers who want a fresh alternative to the typical day and nightlife scenes, Drive Shack offers guests the chance to socialize in one of 96 private, all-weather driving bays as they try to best one another at a variety of fun augmented-reality games. No membership is required to play, as access to the range, golf clubs, unlimited balls, interactive games and virtual courses are all included in the hourly price.
Guests can also compete at a number of retro arcade games dispersed throughout the multilevel venue; sip cocktails at the rooftop bar and lounge equipped with firepits; watch the latest sporting events on one of the venue's more than 300 TVs; and hit up Drive Shack's special and themed events, including social leagues, boozy brunches, live music nights and holiday bashes.
Drive Shack offers a chef-driven menu with dishes designed to be shared, from truffle flatbreads to pork wings to watermelon "poke" bowls. For dessert, there are specialty ice cream sandwiches featuring unique and locally influenced flavors - like the "Chilly Palmer," a lemon shortbread cookie sandwich filled with sweet tea ice cream. The bar offers a variety of creative cocktails, canned wine, local craft beers and surprising treats, including boozy cereals.
The West Palm Beach venue is located at 1710 Belvedere Road, West Palm Beach, Fla., 33406 and will be open from 9 a.m. to 12 a.m., Sunday through Thursday, and from 9 a.m. to 1 a.m., Friday and Saturday. Pricing ranges from $25 to $45 per hour, based on the time of day. For more information, visit
driveshack.com
. Get social on Facebook at
/DriveShackWPB
and Instagram and Twitter at
@driveshack
.
Casa D'Angelo - Boca Raton
There are Italian restaurants and then there is Casa D'Angelo, a delicious, Authentic Italian restaurant with wonderful atmosphere, food and outstanding service. They have an award winning wine list and menu. There are also Private rooms available for private dinners, luncheons and celebrations.
Like most Italian meals, the evening started out with great table conversation, a perfect Old Fashioned and a large variety of appetizers - BUFALA, FIOR DI ZUCCA and CALAMARI to name a few, all fresh and presented perfectly. There is a 'menu' that prortrays the 'standard' offerings but I am told that more than 60% of everything prepared is 'special'. The waiter presented us with over 10 'specials' that change regularly. If you see or hear something you like, dont be afraid to 'mix and match' to your taste.
There is an amazing wine list. The fish are fresh and are sourced locally and abroad. I had the Branzino, served over Rapini accompanied with their Risotto (OMG)... The Veal Scaloppine and the Veal Chop were perfection on a plate. The pastas are home made and fresh local vegtables were crisp. Deserts included an amazing hot apple tart after dinner, Tiramasu and Hot Chocolate Lava Cake. These were some of the finest Italian deserts I have enjoyeed. This is a top notch restaurant with fresh and high quality food. Reservations are recommended.
Rickie Piper has served as the Executive Chef at Casa D' Angelo for over 10 years. His personality and zest for quality and perfection are reflected in everything that is served. Piper was born in Illinois in 1976, but moved with his family back to their home in Rome, Italy when he was eight years old. Growing up, his love for food blossomed as he followed his mother around the kitchen and watched as she prepared traditional Italian dishes for the family.
Casa D'Angelo (www.casa-d-angelo.com), South Florida's award- winning Italian dining destination will open the doors to its fourth location this fall. With Chef Angelo Elia at the helm, the restaurant will debut in the bustling
Aventura ParkSquare
community. Featuring a stunning interior expertly designed by the renowned Adolfo Galvez, Casa D'Angelo will cement its legacy as it continues to serve its nationally-acclaimed, fine Italian cuisine inside a romantic setting. The restaurant will be home to a beautiful wine cellar that will feature the rare, finest, and most exquisite wines carefully selected by Beverage Director Koen Kersemans.
Through an artful combination of premium ingredients, masterful preparation and superb fine wine selections, Chef Elia's restaurants are widely considered one of the best Italian restaurants in the country. The flagship Casa D'Angelo in Fort Lauderdale represents the pinnacle of fine Italian dining in a cultural melting pot. Its tremendous success has resulted in two additional locations in Boca Raton, Florida as well as inside the Atlantis Resort on Paradise Island, Bahamas. Adding to Chef Elia's impressive roster of dining establishments are the growing chain of popular small plate Italian eateries,
Angelo Elia Pizza, Bar & Tapas
(Fort Lauderdale, Weston, Delray Beach and Coral Springs) as well as an authentic Italian café,
Angelo Elia The Bakery Bar
in Oakland Park.
Harvest Seasonal Grill & Wine Bar – Delray Beach
Dave Magrogan and Amit Jain hosted a wonderful evening at the trendy Harvest Seasonal Grill & Wine Bar in Delray Beach. Dave is the founder, owner and CEO of Pennsylvania-based Dave Magrogan Group. Delray Beach's newest transplant, Magrogan has been recognized as one of the industry's most innovative business developers, with claims to success such as his celebrated entrepreneurial text "Do It Rhino Style" and nationwide tours as a motivational public speaker. An aggressive promoter, savvy publicist and sought after motivational speaker, he offers over 22 years of experience in concept creation, planning, marketing and business development at all levels of operations and management. Dave notes, "Harvest doesn't follow fads; we believe in the integrity of our ingredients, and it results in unapologetically flavorful dishes that just happen to be good for you," explains Magrogan. "Everything is made in-house every day by our Co-Executive Chefs Bill Ring and Jeremy Hanson, who always turn out an unquestionably great meal. This is the kind of place you can visit on a Monday and come back that same Friday—we want our guests to feel like family around our tables."
Harvest Seasonal Grill and Wine Bar offers an under 500 calorie, seasonally changing, local farm-to-table menu, 50+ wines by the glass, seasonal cocktails and local beer. Every three months, Harvest Seasonal Grill and Wine Bar changes the menu to reflect the change of the seasons. Harvest Seasonal Grill and Wine Bar works with over 75 local farmers to source the freshest and highest quality products available. The menu features ingredients from local farms and they even list where they are located. At Harvest Seasonal Grill and Wine Bar the use of sustainable, organic and healthy ingredients doesn't stop with the menu. From the organic cleaning products, to our recycled glass bar tops, and from our recycled paper products to the ink on our menus, we are a truly a green concept. The menu has great variety and even "usual" offerings are prepared in a new way.
Amit Jain, Executive Chef tells us ""Organic, hormone-free, all-natural, and grass-fed all add to the uniqueness of our menu. We support all local businesses that provide sustainable clean products that we can share with our guests under the motto "Farm to Table for everyone".
We sampled a variety of soup, salad, appetizers and entrees. Each sampling was light, fresh and flavor filled. For me, there were many surprises like the Butternut Squash Soup. It was sweet and comforting. Pear & Bleu Flatbread, Pork Potstickers and Crispy Brussel Sprouts were were served and enjoyed. The Pumpkin Ravioli set the tone for the fall season and we aslo shared in Braised Short Rib meal. Portions were plentiful and were great comfort food. This fall menu will be a hit. You can visit over and over mixing a light fare or full meal enjoyment. They also provide the BEST staff and service. All details can be found on thier website -
HERE
Join us for the 7thAnnual Florida to Connecticut Dream Ride Rally VIP Kick-off Party Benefiting The Hometown Foundation, Inc.
August 2019
– Please join us for our 7th Annual VIP Kick-off Reception for the Florida to Connecticut Rally on Friday, August 16th, 2018, 6:30pm - 9:30pm at PGA National Resort in Palm Beach Gardens, Florida.
This VIP Reception kicks off the motorcycle and car Rally that begins in Florida and ends in Farmington, Connecticut for the 19th Annual Dream Ride Experience, August 23-25, 2019.
The Dream Ride Experience is truly a labor of love – a dream imagined by Michael A. Bozzuto, CEO of Bozzuto's Inc. – to make a difference and help people with intellectual disabilities through charitable giving and inclusive special events. The Dream Ride Experience has grown from a single motorcycle ride in the Connecticut countryside in 2001 to annual awareness activities, outreach, and fundraising events, including the week-long Florida to Connecticut motorcycle rally, all to celebrate the achievements of Special Olympics Athletes. In addition, the Hometown Foundation, Inc. a 501(c)(3) charitable foundation, founded in 2002, supports five core community needs: the military, children in need, intellectual disabilities, life threatening illness, emergency response personnel, and animal welfare. Through its signature events, The Dream Ride Experience and Dream Cars and Cocktails, The Hometown Foundation has raised more than $7.7 million for Special Olympics and other charities.
There are numerous ways to support our efforts by attending for a $50.00 suggested donation or donating an item to the auction, or sponsoring a gift for each attendee.
www.dreamride.org
Friends Of Jupiter Beach 10th Annual Food and Wine Festival
FARMER'S TABLE, BOCA RATON'S LARGEST HEALTH-FOCUSED DINING DESTINATION
Farmer's Table (
www.FarmersTableBoca.com
) is Boca Raton's largest health-focused dining destination. They were established by co-founders Joseph Giannuzzi and Mitchell Robbins. "Since 2013, Farmer's Table has spearheaded a complete way of healthy living across all facets of the guest experience. They have transformed typical dining tropes through informative servers, a seasonally-driven menu that highlights natural flavors, and an educational component focusing on all aspects of wellness," says The Gab Group CEO Michelle Soudry. "This restaurant caters to the discerning individuals looking for a total lifestyle approach at all levels of dining."
Fresh, healthy and delicious are the underpinnings of any Farmer's Table meal– whether it's bound for the dining room, expansive banquet hall or Farmer's Table Express, an extension of the restaurant featuring ready-to-eat signature menu items packaged in cryovac bags. Featuring menus by Culinary Director Chef Michael Schenk (pictured), all dishes at Farmer's Table are scratch-made and center on fresh, whole ingredients devoid of excess salt, fat or toxins, with no cream, butter, deep fryer or microwave on the premises.
"Eating well shouldn't require sacrifice – whether that's time, money or quality ingredients – which is the driving force behind everything we do at Farmer's Table," remarks Joseph Giannuzzi, who collaborates with Chef Schenk on all menus to maintain their strict adherence to quality standards. "We're more than a restaurant, we are a destination to grab a meal, linger and celebrate a lifestyle of wellness."
Located in the Wyndham Hotel on North Military Trail, Farmer's Table is open daily for breakfast, lunch, dinner and weekend brunch. An expansive dining room accommodates groups of various sizes, with additional banquet space and private dining areas for parties, corporate events, weddings and more.
We had the pleaseure of dining in their out door area with a pool view. The weather was perfect which complimented a very comfortable experience. We sampled many of the "starters" - recommending the Cucumber Avocado "Tartare", where yo ucan add Seared Tuna, POke or Shrimp. The Maple Glazed Baby Back Ribs were seasoned and grilled to perfection, and lets not forget the Buffalo Cauliflower "Drummettes", a unique twist. We also tried a Cauliflower,Beets and Brie Flatbread. This was sout of the norm for me as far as flatbread go, but I can attest to the marvoulous flavor in every bite. We then stepped into 'Supper'. Among the dishes presented (pictured in our slideshow) included Seared Local Swordfish, Grass-Fed Beef Short Rib, Rainbow Trout. The Kombucha Brick Chicken is a house favorite, and lives up to its hype. The "Spasta" & Meatballs was also a flavorful dish, "Spasta" being of course being Squash Pasta along with a Ramen Bowl with a choice of Chicken or Shrimp (or Tofu or Vegan options). The deserts were also as unique and delicious, including the dairy-free Ice Cream, Carrot Cake, Peanut Butter Ice Cream Pie, Old Fashioned Chocolate Pudding and oh yes, the Milk Shake.
The also have full bar service with some equally special cocktails, elixers and speciality coffees and cordials. The Elixers I just mentioned are all made in-house and can be consumed staright or mixed with your favorites liquors. You gotta give these a try.
Keep in mind, they use 2/3rds less salt then other restaurants in all of their dishes. They never use or cook with cream or butter. The primary cooking agent is sunflower seed oil. They follow the EWG's sourcing guidelines. All produce served from their "Dirty Dozen" list is always purchased 100% organic. They do not deep fat fry or microwave anything. All the seafood served is sustainably caught, captured, or raised. This was a mind opening experience for me and I couldn't believe the flavors were awesome (and more importantly - healthy), without all the traditional salts, oils, creams and the like. This restaurants' menus has something for everyone and I'm confimdent you will enjoy the experience. Tell 'em South Florid Free Press sent you.
MORE PICS of most of the 'Goodness'
ULTRA MUSIC FESTIVAL WRAPS 21ST EDITION WITH SOLD OUT
MIAMI MARINE STADIUM & HISTORIC VIRGINIA KEY BEACH PARK DEBUT
ULTRA Music Festival made its indelible mark this past weekend on its new home in Miami's picturesque Miami Marine Stadium & Historic Virginia Key Beach Park. With over 170,000 fans from over
105
countries attending across 3 days, the 21st edition proved to be the biggest yet for the World's Premier Electronic Music Festival. Exclusive headlining performances from Carl Cox, The Chainsmokers, Dubfire B3B Nicole Moudaber B3B Paco Osuna, deadmau5, Galantis, GRiZ, ILLENIUM, Jamie Jones B2B Joseph Capriati, Louis The Child, Marshmello, Martin Garrix, NGHTMRE + SLANDER present Gud Vibrations, ODESZA, REZZ, Richie Hawtin, Sasha | John Digweed, Testpilot, and Zedd helped mark a new chapter in the festival's ever-expanding history.
The 21st edition featured 8 unique stages, all meticulously curated in sound and production. The world-renowned Main Stage provided attendees with yet another year of unparalleled performances with Marshmello, Martin Garrix, and The Chainsmokers closing the festival each night. To add a new dimension to the already scenic Miami Marine Stadium, the Live Arena hosted visually stunning and immersive performances from headliners Galantis, Gigantic NGHTMRE, GRiZ, ILLENIUM, Louis The Child, ODESZA, and the legendary Tom Morello. Canadian mainstay deadmau5 brought his highly anticipated Cube 3.0 stage to life for its worldwide debut on Saturday. Before taking the production across the nation on his Cube 3.0 tour, the Canadian native gave ULTRA patrons and livestreamers a first look at the new and improved version of his classic 'Cube'. Positioning the globally revered producer dead center with a 360-degree swivel, the stage is both undeniably arresting and visually encompassing. Fellow Canadian,
Lights
, took the stage with deadmau5 to perform 'Raise Your Weapon', and an instant classic, 'Drama Free'.
UMF TV provided a livestream across the 3 days of the festival, inviting viewers to experience the new venue in the comfort of their own home. Commencing daily at 5:00PM EST, the livestream broadcast one-of-a-kind performances from ULTRA's new home to 30 million viewers worldwide. Performances from the likes of Tiësto, Alesso, Dog Blood, deadmau5, Carl Cox, The Chainsmokers and Armin van Buuren were featured across the weekend, among many others.
ULTRA Music Festival once again featured a slew of unannounced surprises, with Armin van Buuren bringing out one of the weekend's most intriguing guests, Van Halen frontman David Lee Roth. The two debuted a remix of the legendary rock band's iconic song, 'Jump', which had the entire festival on their feet. NGHTMRE & Slander brought out NBA Hall of Fame member Shaquille O'Neal for nearly five minutes, in a fantasy back-to-back-to-back appearance. Martin Garrix filled the 'TBA' slot on his STMPD Records-hosted stage at UMF Radio on Sunday, Afrojack called upon Rae Sremmurd, and The Chainsmokers united alongside ILLENIUM to unveil their monstrous new collaboration. - More Photos -
Click Here
Located in Boca Raton's upscale Mizner Park
Loch Bar is a classic seafood tavern. Featuring one of South Florida's largest raw bars, it will complement the state's most substantial whiskey menu with a wide selection of craft beers and handcrafted cocktails. Loch Bar also features live music 7 days a week!
In Mizner Park, there's an impressive raw bar and great seafood selection. I used to come here when it was the night club Spin, which was years ago. They definitely brought class in this spot. The interior is beautiful. Think large french bistro style with a long bar with plenty of seating and a spacious dining area that is tastefully decorated. There is a smaller bar outside with limited seating that is a nice gathering spot.
The service is great, very attentive and recites the menu and its features... To start on the appetizer list, we sampled the Skirt Steak Lettuce Wraps and the Cajun Cauliflower - both very flavorful. This was followed by a Shellfish Tower, loaded with Oysters, Clams on the half shell, Mussels, Lobster Tails, King Crab Legs, Shrimp Cocktail, Yellow Fin Tuna Poke - holy smokes, bring a few people to share this wonder display of seafood. The main course included Filet MIgnon and my favorite of the evening, Maryland Crab Cakes. Perfectly done, all crab with mixed greens and remoulade - trying these are a must.
Their homemade deserts featured Apple Crisp with Bourbon Sauce (a weakness of mine), vanilla whipped cream and a Smith Island Cake - 17 layers of decadent chocolate gonoche and yellow cake.
All in all, a wonderful experience in the heart of Mizner. Click
HERE
- MORE PICS OF LOCH BAR AND ITS FLAVOR They are open all week, 11AM til midnight. Loch Bar - 346 Plaza Real, Boca Raton, Florida 33432 - Phone
561.939.6600
Royalton Hicacos, Cuba, Secures World Class Status after Multiple Industry-Leading Awards
A pearl of Royalton Luxury Resort portfolio, Royalton Hicacos entered the 2017 winter season on a high after two major international award wins. In October the resort took home three World Luxury Hotel Awards for Best Luxury Beach Resort and Best Luxury Island Resort in all of North America, along with the title of Cuba's Top Luxury Romantic Best Resort. These impressive titles were joined by a TUI Top Quality Resort for outstanding guest ratings, the only such award given to a hotel in Cuba.
"It is an honor to lead this resort and its passionate teams to international success," said Paulina Chahin, General Manager of Royalton Hicacos. "These awards humble us because they reflect the guest experience we've worked hard to perfect. We are further motivated by these acknowledgements to keep our new guests coming and our valued clients returning."
The 404-room luxury resort enjoys a privileged location along the famous Varadero Beach, with lush resort grounds and picturesque thatch-roof buildings and ranchons. Colourful fountains and palettes of blue and white create a relaxing ambiance in a region rich with history and vibrant nightlife. The premium adults-only resort is a cut above other Varadero hotels with its contemporary all-inclusive amenities, impressive culinary options, and premium Diamond Club™ upgrades for a superior experience.
Royalton Hicacos has enjoyed high occupancy and guest satisfaction in the years since it became a Royalton Luxury Resort. Currently, the resort listed at the top of numerous guest-rated travel websites for its ability to provide a superior vacation experience in a region of Cuba well-known to tourist
s that offers a variety of all-inclusive options. On TripAdvisor®, Royalton Hicacos is currently ranked among the top two hotels in all Varadero with 4.5 stars from 4,500 reviews and in recent years, Royalton Hicacos has featured prominently with acknowledgements that include the Traveler's Choice Award for 2014, 2015, and 2016. Last month, Royalton Hicacos was featured on the Best All-inclusive Resorts in the Caribbean, as featured by MSN News.
To reserve your premium All-in Luxury® vacation at the impressive Royalton Hicacos, visit us online at www.royaltonresorts.com or contact your travel agent.